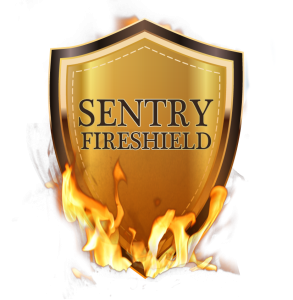 Rollashield Sentry Fireshield is ideal for residential or commercial use, particularly in areas prone to fire hazards. Manufactured to the highest standards with state of the art equipment, the Sentry Fireshield profile is available in a 40mm curved profile.
The Sentry Fireshield has superior strength offering increased security and performance. The overall profile appearance is clean and stylish with only a slight "V" groove line on the convex side. Available in several long lasting and fade resistant Interpon coatings or a natural anodized finish, the Sentry Fireshield Profile can also be powder coated in a colour of your choice.
It is common knowledge that hot or burning embers entering the home during a bushfire is a major factor in the ignition of the building itself. Rollashield Sentry Fireshield Roller Shutters have been credited with saving homes from burning to the ground when other surrounding properties were not so fortunate.
The Sentry Fireshield shutter has been extensively tested by the CSIRO under severe bushfire simulated conditions and proved to be able to withstand a maximum radiant heat exposure of 40kw/m2 after 60 minutes. As no ignition or flaming was observed throughout the testing the Sentry Shutter has received a Bushfire Attack Level (BAL) of 40.
Features & Benefits
Bushfire Attack Level (BAL) 40
Increased strength and security
Available with heavy duty axle & bearing
Minimal flex
Optional powder coating
Ideal for commercial applications
Available with restrained inserts & guides
Light control
| | |
| --- | --- |
| Width | 800, 1000, 1200, 1400, 1600, 1800, 2000, 2200, 2400, 2600, 2800, 3000, 3200, 3400, 3600, 3800, 4000, 4200, 4400, 4600 |
| Height | 800, 1000, 1200, 1400, 1600, 1800, 2000, 2200, 2400, 2600, 2800, 3000 |
About DIY Blinds
We are Australia's premier destination for DIY blinds, shutters, awnings and more. Located in Melbourne, we have been fitting Australian homes and businesses with top of the line shutters for over 20 years. Our team is passionate about empowering everyday Aussies to try their hands at DIY projects, whether they're a DIY novice or a renovation veteran. Our products come with straightforward, simple instructions, making it easy for DIY-ers of any skill level to install their DIY Blinds. However, we also offer a professional installation service for our customers who'd prefer to save a little time. Our products are made-to-order and we endeavour to have each order delivered to its new home within 3 weeks of the purchase date.
Purchase your shutters today
Explore our security shutter range online and find the perfect shutters for your windows today. For more information or assistance finding the most suitable shutters, we encourage you to reach out to our knowledgeable team, who are on hand to help you with anything you need. We are looking forward to chatting with you and getting you set up with the security shutters you've been looking for.